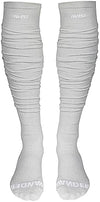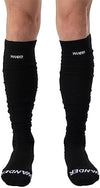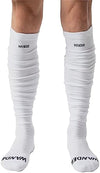 MEN SCRUNCH FOOTBALL SOCKS EXTRA LONG PADDED 2PACK
53.1% cotton,24% polyester,4.9% spandex

Premium Material: Football socks have excellent air permeability, sports socks are made of cotton mixed with polyester fibers to keep feet dry and comfortable during intense exercise, providing superior durability and more comfortable wear.

Cushioned Bottom: Athletic socks have a maximum cushioned position to reduce foot pain during exercise; reinforced heel and toe - the reinforced heel and toe provide durability in high pressure areas to protect your feet.

Compression Design: Running socks have a targeted compression design for football training, with the right amount of compression to keep the arch stable and secure, helping to reduce fatigue and prevent injury, while also providing better protection for the legs.

Scrunch Adjustment: Our football socks feature Scrunch design that helps prevent them from slipping off when running in a match. These sports running socks ensure you can focus better on the competition.